The Hawaiian Department of Land and Natural Resources (DNLR) has reminded coastal residents on the island of Kauai to keep their domestic cats indoors and dogs leashed or fenced in from now until July next year in regions where Laysan Albatrosses Phoebastria immutabilis breed (click here). DLNR's Division of Forestry and Wildlife is distributing informational flyers to encourage the public to help protect the seabirds.
"We are asking dog owners to be responsible with their pets when walking along our coastal areas," said Kaua'I biologist Thomas Ka'iakapu. "The message is simple – keep your dogs under control and on their leads. That way we can prevent these kinds of incidents from happening over and over again".
In previous years there have been a number of cases of both chicks and adults being killed by domestic, stray and feral animals on Kauai (click for examples for cats and for dogs).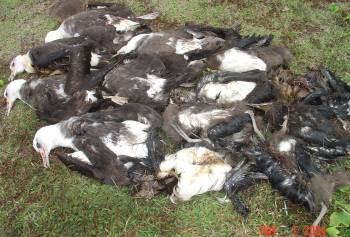 Laysan Albatrosses killed by dogs on Kauai in 2004, photograph by Brenda Zaun
Read about the suburban albatrosses of Princeville and along the north-eastern shore on Kauai.
Two well-illustrated blogs follow the fortunes of the Kauai's suburban-breeding albatrosses:
http://www.albatrosskauai.com/
John Cooper, ACAP Information Officer, 01 December 2015