It is now well-known that downy chicks of the near-endemic and Critically Endangered Tristan Albatrosses that breed on Gough Island in the South Atlantic are facing nightly onslaughts in winter months from "killer" House Mice that have been long-introduced to the island.  This year is no different, although Southern Giant Petrels Macronectes giganteus may also be to blame.
The 2012 island-wide surveys are now complete. Ony 486 chicks remain this month out of the 1421 eggs laid at the beginning of the year. This breeding success (to date) of 34.2% is about half of what should be expected from a great albatross of the genus Diomedea. In effect there should be roughly 500 more chicks on the island to fledge by year-end. Loss of this number of new recruits to the species' population each year is not sustainable: which is why the bird is Critically Endangered.
The following graphic account by researchers on the island is taken from the Gough Bunting for August 2012, the electronic monthly newsletter of the 57th South African Meteorological Team on Gough.
"Sadly, Tristan Albatross chicks have still been disappearing.  We recorded again about 20 failures, the percentage of nests with an egg in January-March exhibiting a chick in August being only from 37.8 % (Hummocks) to 70.2 % (Albatross Plain).  We witnessed some orgies of giant petrels and skuas feeding frenetically on a chick which just died, probably killed by the former. It was this frenzy which attracted our attention, giant petrels and skuas calling, chasing away and after each other, taking off, landing, running, flying... The chick corpses were mauled, dismembered and cleaned to bones in less than two hours.  As two chicks were killed while we checked them 3-4 days before without finding any wounds from mouse attack, we highly suspect that some giant petrels are specialized in killing healthy Tristan Albatross chicks.  Besides, giant petrels just started to breed, laying their eggs in August, so these chicks could be a source of food quite easy to exploit."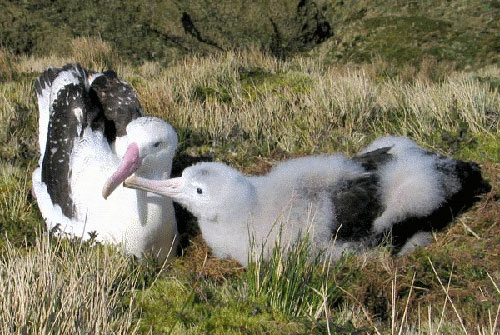 Tristan Albatross with a begging chick
Photograph by Andrea Angel/Ross Wanless
Click here to access previous stories on the mice and albatrosses of Gough.
Conservation research on birds and management activities on Gough are funded by the UK's Overseas Territories Environment Programme via the Royal Society for the Protection of Birds and are conducted with the support and approval of the Tristan Conservation Department.  With thanks to Karen Bourgeois and Sylvain Dromzée for information and Paul Visser for leading the chick count for 2012.
John Cooper, ACAP Information Officer, 30 Sepember 2012