Montecristo is an uninhabited 13-km² island almost halfway between the Italian mainland and French Corsica in the Mediterranean Sea.  It lies within the Arcipelago Toscano National Park and forms part of the Natura 2000 network of sites.
The Vulnerable Yelkouan Shearwater Puffinus yelkouan, a potential candidate for ACAP listing, breeds on Montecristo with an estimated population of 400 to 700 pairs, representing some 10-20% of the Italian and 3-10% of the species' global population.  However, due to predation of eggs and chicks by Black or Ship Rats Rattus rattus only a fraction of the island's shearwater breeding population was able to reproduce successfully, leading to plans to eradicate the rats by dropping 13.5 tonnes of Brodifacoum-poisoned cereal bait by helicopter in 2012.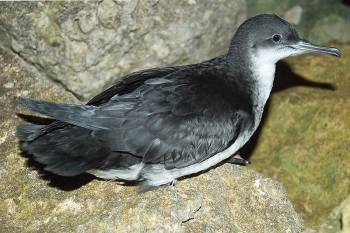 Yelkouan Sheawrater.  Photograph by Matthew Borg Cordona
Following on from two years of monitoring and experimental trials and despite well-meaning but misguided objections at the time the rodent eradication exercise went ahead without fanfare last January: "the operation took place exactly one year ago.  No signs of rats since that time, but the island is big, so much more time is needed to be sure of the outcomes.  Anyway, Yelkouans experienced a great breeding success last spring (0.95), [which hasn't happened] since the Middle Age I guess!" as reported to ACAP by Nicola Baccetti of the Istituto Superiore per la Protezione e la Ricerca Ambientale (ISPRA) in Bologna, Italy.
If the rat eradication effort is deemed successful after the usual two-year waiting period in January next year Montecristo will become the largest rat-free island in the Mediterranean.  The island will then be known not only for the well-known 19th Century adventure novel The Count of Monte Cristo by Alexandre Dumas but also for its predator-free shearwaters.
The 240-ha island of Giannutri, also in the Tuscan Archipelago, was successfully cleared of its rats by ground baiting in 2007, thus helping the island's Scopoli's Shearwaters Calonectris diomedea (click here).
It is considered that eradication of the rats will allow the recolonization of Montecristo by European Storm Petrels Hydrobates pelagicus, a species that has not been recorded on the island since the 1960s.
Click here to read about attempts to eradicate rodents on two other Mediterranean islands.
With thanks to Nicola Baccetti and http://www.montecristo2010.it/ for information.
John Cooper, ACAP Information Officer, 2 February 2013