Two seabird groups are due to hold conferences next year in their regular series of such events.
The Pacific Seabird Group will hold its 41st Annual Meeting in the usual form of a conference over 19-22 February 2014 in Juneau, Alaska, USA in the Centennial Hall. The Local Organizing Committee chairs will be: Sadie Wright and Yumi Arimitsu.
Click here to access abstracts of presentations given at the PSG's 40th Meeting held earlier this year in Portland, Oregon. A listing by author and title of the 2013 meeting abstracts that covered ACAP-listed albatrosses and petrels can be found here.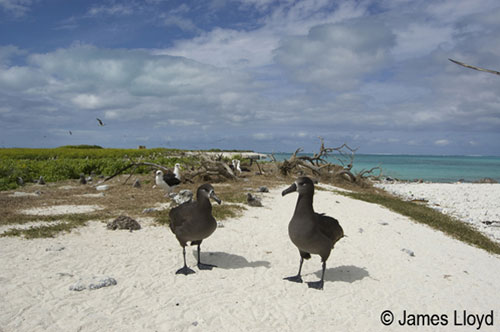 Black-footed Albatrosses. Photograph by James Lloyd
The 12th International Conference of the (UK) Seabird Group will be held at Merton College, University of Oxford on 21-23 March 2014. The lead convener will be Tim Guilford, Professor of Animal Behaviour, Department of Zoology, University of Oxford.
The 11th International Seabird Group Conference was held at Plymouth University in the United Kingdom in September 2011 (click here for abstracts of this and previous conferences).
John Cooper, ACAP Information Officer, 04 July 2013