For the second time ever, a Short-tailed Albatross Phoebastria albatrus chick has hatched out away from a Japanese breeding colony.  Midway Atoll National Wildlife Refuge welcomed its new chick on the morning of 12 January, the day after a visit to the atoll's Eastern Island (and to the nest) by well-known oceanographer and marine conservationist, Dr. Sylvia Earle and marine artist Wyland (click here and here for more details).  A fuller account of Midway's Short-tail pair can be found at http://www.papahanaumokuakea.gov/news/short_tailed_albatross_pr.html
See lots of photos of the the Earle/Wyland visit to Midway (including with the male Short-tailed Albatross, then incubating), at http://www.flickr.com/photos/usfwspacific/sets/72157628789649819/.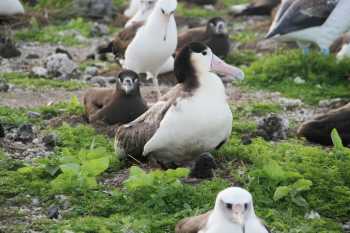 Midway's second Short-tailed albatross chick, guarded by the female of the pair the day after hatching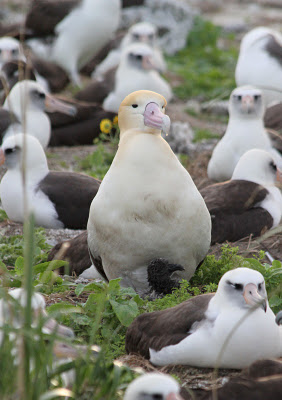 A few days later the male takes over brooding duty
Photographs by Pete Leary, Wildlife Biologist, Midway Atoll National Wildlife Refuge
Following on-line discussions, it has been suggested that this second chick be named "Hope".   Last year's chick was named "Ikaika", which means strong or strength in Hawaiian, by John Klavitter after it had fledged. Importantly it was colour-banded as Red AA00 before it fledged so it can be identified if it returns to Midway in due time - as of course is hoped.
Meanwhile the world's oldest known Laysan Albatross P. immutabilis, known as "Wisdom" and who is currently breeding once more on Midway's Sand Island, may, if it breeds successfully as it did last year (click here), have its 2012 chick named "Wonder".  The fortunes of Wisdom can be followed on both Facebook and Twitter.
Click here to read about last season's breeding attempt by the same pair of Short-tails on Midway, when the chick managed to survive storms and displacement by a tsunami to fledge successfully.
With thanks to Pete Leary, Wildlife Biologist, Midway Atoll National Wildlife Refuge for information and for the use of his photographs.
John Cooper, ACAP Information Officer, 20 January 2012, updated 25 January 2012