Delegates attending the Fifth Albatross and Petrel Conference (IAPC5) in Wellington, New Zealand this week got the opportunity to view as well as to hear about ACAP-listed albatrosses and petrels.
Three 2.5-hour excursions were undertaken on the mid-conference break on 15 August into Cook Strait that separates North Island from South Island aboard The National Institute of Water and Atmospheric Research (NIWA)'s 13.9-m multi-role inshore research vessel Ikatere.
Ikatere has a cruising speed of 28 knots, and with a relatively open deck is ideal for viewing albatrosses and petrels.  The vessel departed from and returned to Wellington's Seatoun Wharf, close to the entrance to Wellington Harbour and Cook Strait beyond.
Ten ACAP-listed species were identified over the three trips: seven albatrosses (Northern and Southern Royal, Antipodean, Salvin's, White-capped, Buller's and Black-browed) as well as Westland Petrel Procellaria westlandica and both giant petrels.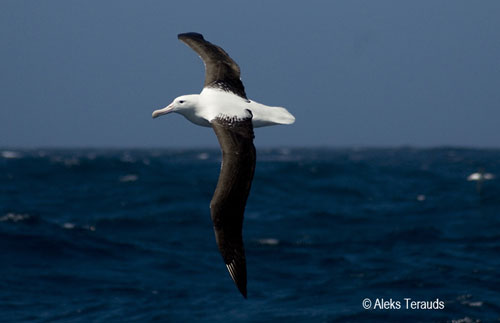 Northern Royal Albatross at sea
Photograph by Aleks Terauds
Two other excursions on the day took more conference delegates to Kapiti and Matiu/Somes Islands, both reserves where alien mammal eradications have been successfully carried out.  Matiu/Somes is also an island where attempts are being made to reintroduce Fluttering Shearwaters Puffinus gavia by translocating chicks and then hand-feeding them on "sardine smoothies" (click here).
See also http://www.doc.govt.nz/upload/4990/matiu-newsletter-oct-10.pdf.
Click here to read about recent research by NIWA scientists that has tracked at sea albatrosses from New Zealand's Campbell Island.
With thanks to Bruce Dyer, Azwianewi Makhado and Ross Wanless for information, and to the IAPC5 convenors for arranging a good day out.
John Cooper, ACAP Information Officer, 17 August 2012