UPDATE
The Children's Book Council of Australia has awarded One Small Island the Eve Pownall Award for Information Books.  This is its second award, the first was the (Australian) Wilderness Society's Environment Award for Children's Literature (click here).
*******************
Educating the general public, including its youth, is one of the essential aims of the Albatross and Petrel Agreement - as set out in its Action Plan.  For this purpose a regularly-updated list of books for children forms part of the resources section on this web site (click here).  Two recently-published books, very different from each other in style and substance, have been added to this list.
Zoe and the Albatross by Freya Dauth tells the story of an unloved daughter of divorced parents who despite her unhappiness finds herself and in (and as part of) the process rescues an injured Wandering Albatross she finds on the shore.  This is a long book, written like a novel, and is not illustrated.  It is much more about Zoe and her growth in confidence than about the conservation needs of albatrosses.  Anyone who has had to carry a Wandering Albatross for any distance will boggle when Zoe is described as climbing a sea cliff unaided and for the first time in her life with one in her arms!  Zoe and the Albatross is available as a soft-cover and as an E-book.
Following Australian Antarctic Arts Fellowships which took them south, Alison Lister and Coral Tulloch have produced One Small Island, which describes the history of the introduction, effects and eradication of introduced mammals on Macquarie Island in an attractively put-together book.  The successful removal of cats and the current Macquarie Island Pest Eradication Project (MIPEP) to eradicate the island's alien rabbits and rodents is reported on in pictures and in words.  The book does not "talk down" to its intended audience and depicts and describes the necessity to shoot and poison the aliens that have so harmed the island and its wildlife.  Its targeted readers will be younger those of Zoe's story.
You can read reviews by 10-year-old Molly Ryan of two other children's books on albatrosses published in the last year (click here and here).
Conspicuously lacking so far are children's books on other ACAP-listed procellariiform seabirds.  So here is a challenge to existing and prospective authors out there to write an endearing story about a giant petrel, a burrowing Procellaria petrel, or the most recently listed ACAP species, the Balearic Shearwater of the Mediterranean.  They all have interesting lives!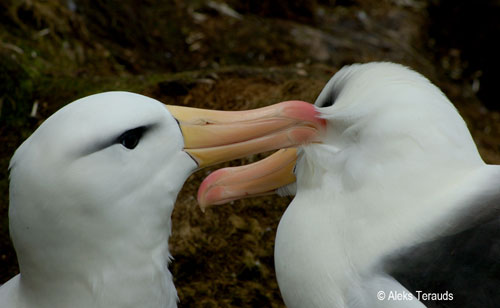 Black-browed Albatrosses breed on Macquarie Island
Photogtraph by Aleks Terauds
References:
Dauth, Freya 2012. Zoe and the Albatross. Bloomington: Balboa Press. 140 pp.
Lester, Alison & Tulloch, Coral 2011.  One Small Island.  The Story of Macquarie Island.  Melbourne: Penguin Australia.  32 pp.
With thanks to Keith Springer for information
John Cooper. ACAP Information Officer, 19 August 2012, updated 24 August 2012