On the First of August this year a workshop was jointly organizedin Chile by the Instituto de Fomento Pesquero (IFOP) and BirdLife International's Albatross Task Force to train scientific observers of the Institute.  The workshop was led by Jorge Azocar (IFOP) and Oli Yates (ATF).
The observers who attended are currently monitoring the pelagic longline fleet that targets swordfish in the north of Chile.  This workshop was framed to follow the training initiatives set out in Chile's National Plan of Action - Seabirds.  It covered a range of topics including onboard sampling protocols, bird identification, and design and construction of best-practice bird-scaring lines following ACAP's Mitigation Fact Sheets.
Since 2009 collaboration between IFOP and the ATF has played a key role in the adoption of bird-scaring lines in the Chilean pelagic fishery.  The main result of this workshop was the construction of vessel-specific bird-scaring lines for the fleet mentioned above.  The use of bird-scaring lines is advocated as part of a suite of mitigation measures that incudes night setting and appropriate line weighting.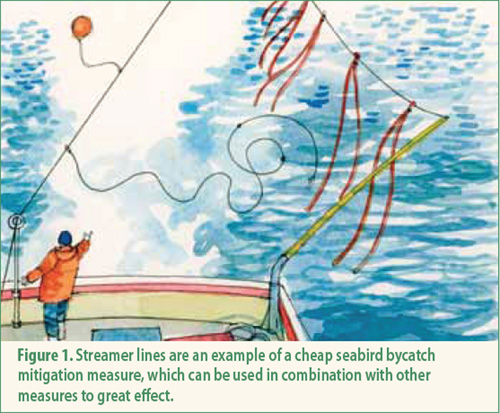 Reference:
[Chile 2007].  Plan de Acción Nacional para Reducir les Capturas Incidentales de Aves las Pesquerías de Palangre (PAN-AM /Chile). [Santiago]: Subsecretaria de Pesca.  38 pp.
With thanks to Oli Yates for information.
Jorge Azócar R., Highly Migratory Species Monitoring Instituto de Fomento Pesquero, Valparaiso, Chile & John Cooper, ACAP Information Officer, 20 August 2012