The last overhead power lines have now been removed on Midway Atoll in the North Pacific.  Over the years overhead cabling, including stays supporting radio masts and the like, have caused the deaths of many birds, especially Black-footed Phoebastria nigripes and Laysan P. immutabilis Albatrosses on the island.  Most power lines were placed underground years ago, and now there are no exceptions according to Pete Leary, Wildlife Biologist at the Midway Atoll National Wildlife Refuge.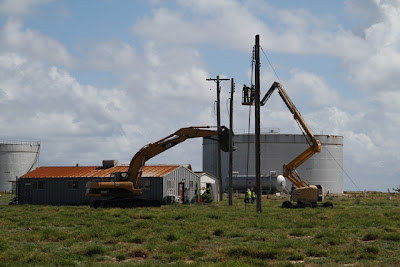 Removing the last overhead power lines on Midway Atoll
Photograph by Pete Leary
Albatrosses in the north-western Hawaiian Islands are also susceptible to collisions with aircraft (click here for an incident on Tern Island, French Frigate Shoals).  Fortunately when two military jets and a military transport plane made landings on Midway recently it was after most of the albatrosses had left at the end of the breeding season and no fatalities have been reported.  Click here for some photos of the event.  You can also view a video clip of one of the jets landing on Midway: try to see if you can spot an albatross on the runway!
With thanks to Pete Leary for permission to use his photographs.
John Cooper, ACAP Information Officer, 14 August 2012