The Pacific Seabird Group will hold its 40th Annual Meeting in Portland. Oregon, USA over 20-24 February 2013.  The meeting venue will be the Hilton Hotel.
"Known for its green space and wide diversity of cuisines, art, music, local innovation, and sheer weirdness, Portland will be an ideal location to celebrate PSG's 40th.  Although the city lies some 65 miles from the sea (as the murrelet flies), both the Willamette and Columbia rivers that surround it are home to huge populations of seabirds and waterbirds, including the largest colonies of Double-crested and Brandt's Cormorants and Caspian Terns on Earth.  Portland lies within a short drive of the coast and the Columbia River Gorge National Scenic Area with some of the most breath-taking natural beauty in the Pacific Northwest.  Mt. Hood is 90 minutes away, if you're inclined to add a skiing or snowboarding vacation to your trip."
Planned field excursions include a five-hour pelagic trip out of Newport that is likely to see sea ducks, cormorants, loons/divers, grebes, gulls, auklets, shearwaters, fulmars and ACAP-listed Laysan Phoebastria immutabilis and Black-footed P. nigripes Albatrosses, as well as seals and small cetaceans. The Short-tailed Albatross P. albatrus is "rare but possible".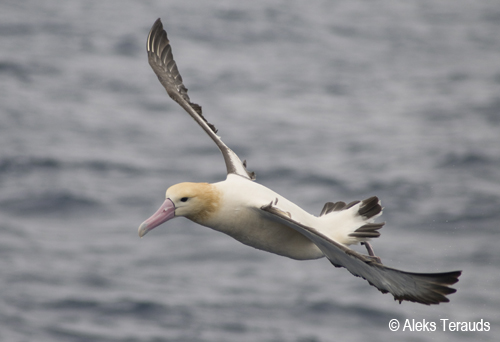 Short-tailed Albatross.  Photograph by Aleks Terauds
A call for abstracts will be made soon and information on sepcial sessions and symposia provided.
Click here to access abstracts of the Pacific Seabird Group's 39th Annual Meeting held in Hawaii in February this year.
The Pacific Seabird Group is a society of professional seabird researchers and managers dedicated to the study and conservation of seabirds.
John Cooper, ACAP Information Officer, 5 September 2012