The annual relief of the South African weather station on Gough Island in the South Atlantic commences today with the brand-new Antarctic research and supply ship the m.v. S.A. Agulhas II departing Cape Town on its maiden voyage to the island at 14h00 SAST.  Gough forms part of the United Kingdom Overseas Territory of St Helena, Ascension and Tristan da Cunha.  South Africa operates the weather station under a lease arrangement with the Tristan ds Cunha Government
Along with the new six-person South African team that will run the station, aboard is a group of marine ornithologists and rope-access technicians that will continue research and monitoring of ACAP-listed albatrosses and Southern Giant Petrels Macronectes giganteus.  Alien plant eradication work will continue on the coastal cliffs near the base in Transvaal Bay - hence the need for the climbers.
Three long-term demographic studies will continue on colour-banded populations of Critically Endangered Tristan Albatrosses Diomedea dabbenena (going into its seventh year in 2013), Endangered Atlantic Yellow-nosed Albatrosses Thalassarche chlororhynchos (31st year in 2012/13) and giant petrels (third year of study).  Gough is the Southern Giant Petrel's most northerly-breeding locality which makes the island's population of intrinsic interest.  Unlike the albatrosses at risk to longlining at sea and introduced "killer" House Mice ashore, the giant petrels appear to be doing well, fitting with their global Least Concern status.  In addition it is intended to commence a fourth long-term study, this time on Endangered Sooty Albatrosses Phoebetria fusca for which Gough is a major breeding locality.  Safety issues with this cliff-nesting species will be paramount and climbing harnesses and ropes will be used whenever necessary.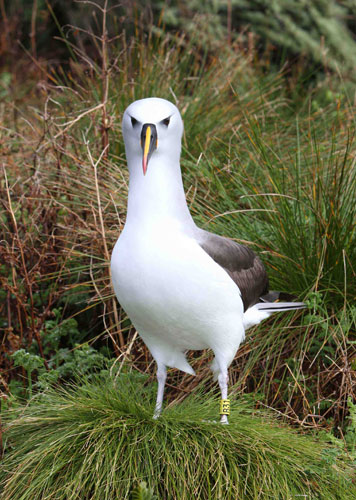 Colour-banded Atlantic Yellow-nosed Albatross on Gough Island
This year the group will be again led by John Cooper (Centre of Excellence for Invasion Biology, Stellenbosch University) on behalf of the UK's Royal Society for the Protection of Birds and the Percy FitzPatrick Institute of African Ornithology, University of Cape Town.
John is also involved with a new study of Gough soil invertebrates with Aleks Terauds of the Australian Antarctic Division and is acting as co-Environmental Inspector ashore on behalf of the Tristan Conservation Department along with Tristan Chief Islander Ian Lavarello.  Busy, busy!
Two RSPB/UCT field researchers (Karen Bourgeois and Sylvain Dromzée from France) who have spent a year on the island will return with the ship to Cape Town in October at the end of the relief.  They will be replaced by a new pair of researchers for the 2012/13 year, Chris Bell and Mara Nydegger from New Zealand.
Click here to read about the start of the 2011 expedition.
Conservation research on birds and management activities on Gough are funded by the UK's Overseas Territories Environment Programme via the Royal Society for the Protection of Birds and are conducted with the support and approval of the Tristan Conservation Department.
John Cooper, ACAP Information Officer, 6 September 2012