The United Kingdom was the first country to issue postage stamps - with the famed Penny Black - way back in 1840.  So there was no need to print the country name on the stamps, a situation that continues to this day.  Similarly, when the Seabird Group was formed in the U.K. in 1966, it was the first such, so although it is principally concerned with the United Kingdom and is surrounding waters it has kept its original name unchanged as other regional seabird groups have come into existance.  A charming idiosyncracy?
"The Seabird Group, a registered charity, was founded in 1966 to promote and help coordinate the study and conservation of seabirds.  It maintains close links with other national and international ornithological bodies.  Members receive, and can contribute to, regular newsletters, and the colour journal Seabird, published annually.  The Group organises regular international conferences and provides small grants towards research and survey projects.  It was part of the SEABIRD 2000 partnership, a major initiative to census [sic] all the seabirds breeding in Britain and Ireland between 1998 and 2002.  The Group actively encourages its members to get involved in surveys of seabirds and other research work."
The most recent conference was the 11th, held in September last year.  Below is a list of oral and poster papers and ACAP-listed albatrosses and petrels and on shearwaters presented at that meeting.
ORALS
Boulinier, T., Garnier, R., Ramos, R., Staszewski, V., Militão, T., Lobato, E. & González-Solís, J.:  Extraordinary long persistence of maternal antibodies in a long lived seabird: implications from albatross conservation to comparative immunology.
Kirk, L., Dean, Freeman & Guilford, C.:  Long-term individual migration tracking of the Manx Shearwater Puffinus puffinus.
Militão, T., Kolbeinsson, Y., Ryan, P., Boulinier, T., Becker, P.H., Phillips, R.S. & González-Solís, J.:  Can we trace the migration of Atlantic seabirds using stable isotopes?
Pardo, D., Barbraud, C. & Weimerskirch, H.:  Multi-trait ageing and differential impact of environmental variations in an extremely long-lived bird.
Phillips, R.A., Freeman, M.P., Chisham, G., Freeman, R. & Croxall, J.P.  Dispersal patterns of fledglings and implications for the development of individual migration strategies in Wandering Albatrosses.
Wynn, B., Jones, R., Suberg, Collins, Thébault, Yésou, P. & Brereton, M.:  Intensive monitoring provides new insights into key flyways and foraging areas of the Balearic Shearwater in UK and French waters.
POSTERS
Cowen, H.C., Oppel, S.O., Hervias, S.H., Oliveira, N.O., Geraldes, P.G., van Heezik, Y. & Brooke, M.:  How to measure cat activity in shearwater colonies to explain variation in Cory's Shearwater nest survival.
Guilford, T.C., Wynn, R., McMinn, M., Rodriguez, A., Jones, A.R., Maurice, L.D. & Suberg, L.:  Migratory movements of the Critically Endangered Balearic Shearwater revealed by geolocator tracking.
Oppel, S., Raine, A.F., Borg, J.J., Raine, H., Bonnaud, E., Bourgeois, K. & Breton, A.R.:  Low adult survival probabilities threaten the Yelkouan Shearwater Puffinus yelkouan.
Perrins, C.M.:  Factors affecting weight and survival of fledgling Manx Shearwaters Puffinus puffinus.
Reyes, J.M., Phillips, R.A. & González-Solís, J.:  Activity patterns of pelagic seabirds during the nonbreeding period.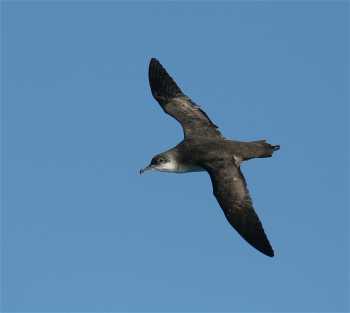 Yelkouan Shearwater.  Photograph by Alex Olle
Click here to access the abstracts of the above (and other) presentations at the 2011 Seabird Group Conference.
John Cooper, ACAP Information Officer, 11 September 2012