In 1769/70 Captain James Cook circumnavigated New Zealand, proving it was not the fabled southern continent (Terra Australis Incognita) that explorers of the time sought.  Now over two centuries later it has been shown that a seabird can do the same.
Museum of New Zealand Te Papa Tongarewa scientists Susan Waugh and Lara Shepherd have recently completed a study of foraging movements of the ACAP-listed and New Zealand breeding endemic Westland Petrel Procellaria westlandica.
The petrel was studied over two years during the breeding season (pre-breeding, incubation and chick-rearing) near Punakaiki in South Island.  Tracked birds fed close inshore along the west coast of South Island, and also spent considerable time in Cook Strait, off Wellington's south coast, and in the Kaikoura area.  Birds mainly foraged over the continental shelf areas, in water depths of less than 200 m.
An off-duty incubating bird flew around the entire South Island of New Zealand in June 2012, before returning to it breeding site.
The study was conducted in collaboration with John Arnould, Deakin University, Dominique Filippi, Sextant Technology, Mark Miller, BirdLife International and Clara Peron, CNRS, France, with assistance from the New Zealand Department of Conservation.
Click here to learn more about Te Papa's work with Westland Petrels (with an animation of the circumnavigation flight) and watch a TV clip at  http://www.bluepenguin.org.nz/news/the-westland-petrel-close-up/.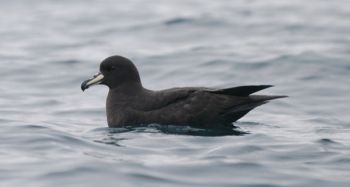 Westland Petrel at sea.  Photograph by Barry Baker
With thanks to Susan Waugh for information.
John Cooper, ACAP Information Officer, 8 October 2012