The bidding eventually stopped at NZ$ 4970 following an exciting flurry of bids that started from NZ$ 4120 in the last 20 minutes of "extra time" as the two remaining bidders battled it out NZ$ 10 at a time.  Congratulations (and thanks) to the winner, commiserations to the under-bidder.
********************
The bidding has reached NZ$ 4090 on the last day of the auction with less then five hours to go. After a total of 206 bids, there are three people remaining in the auction competing against each other in NZ$ 10 increments.  How high will it go in the last few hours and minutes to help eradicate the mice on the Antipodes?
***********************
The Our Far South project is auctioning an eight-day trip by yacht next month to the Snares Islands led by New Zealand's Department of Conservation (DOC).  This is a once in a lifetime opportunity, as the Snares, a nature reserve and part of a World Heritage Site since 1998, are highly protected with no landings by tourists allowed.
The aim of Our Far South is to raise New Zealanders' awareness of the importance of Antarctica, the sub-Antarctic islands and the Southern Ocean.  "All money from this auction will go to the Million Dollar Mouse fund - raising $1 million to eradicate mice off the Antipodes Islands and provide a safe habitat for the many animals and seabirds that rely on these islands.  Mice, the last remaining pests, eat the eggs and chicks of the seabirds that breed on these islands."
The successful bidder will work with a small DOC team to catch and transfer the endemic Snares Island Snipe Coenocorypha huegeli. The opportunity will also exist to view breeding Buller's Thalassarche bulleri (8713 pairs in 2002) and Salvin's T. salvini Albatrosses as well as huge numbers of Sooty Shearwaters Puffinus griseus and the endemic Snares Penguin Eudyptes robustus.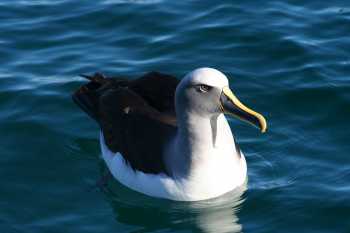 Buller's Albatross.  Photograph by Chris Golding
Currently NZ$ 632 548 has been raised for the Antipodes poison bait drop, planned to take place in winter 2014, so the two-thirds milestone approaches.  The highest bid received for the Snares trip so far is NZ$ 3550 (click here).  The auction closes at 20h45 (New Zealand time) on 26 November so not much time left to get your own bid in to support albatross and petrel conservation.
With thanks to Pete McClelland for information.
John Cooper, ACAP Information Officer, 21 November 2012, updated 26 November 2012