In December 2014 a photographic survey of Black browed Thalassarche melanophris and Grey-headed T. chrysostoma Albatrosses was undertaken around the South Atlantic island of South Georgia (Islas Georgias del Sur)*. Because the breeding colonies are mainly located on steep coastal headlands and sea cliffs it was not possible to gain access from the land so a vessel was used to support a two-person team to photograph the colonies from the water.
A report on the survey is precised here:
"At the end of the 14-day trip, more than 1,000 photos had been taken including close up shots and perspectives at 12 locations. Using the photographs as a guide, images of discrete colonies or groups of birds were 'stitched' together. Some colonies lacked clearly defined boundaries due to the complexities of terrain and so landscape features such as ridges and spurs were used to define counting areas. The location of each individual albatross was highlighted on the computer screen by superimposing a coloured dot on each bird, and these dots were then counted.
After the total number of birds in each colony was counted, the numbers of breeding pairs were corrected for diurnal variation and for nest failure between the date of laying and the date each colony was censused [sic]. More than 15,000 black-browed and 16,000 grey-headed albatross were recorded but unfortunately this still signifies a considerable decline since the previous survey in 2004. For the black-browed albatross this represents around a 20% decline in the population but for grey-headed it is more than a 40% decline."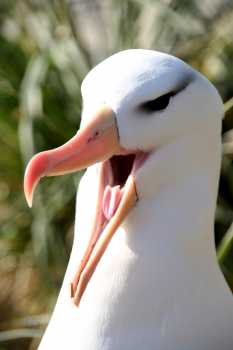 Black-browed Albatross, photograph by Oli Yates
Click here to access the original report in full.
Relevant Literature:
Poncet, S., Robertson, G. Phillips, R.A., Lawton, K., Phalan, B., Trathan, P.N. & Croxall, J.P. 2006. Status and distribution of wandering, black-browed and grey-headed albatrosses breeding at South Georgia. Polar Biology 29: 772-781.
John Cooper, ACAP Information Officer, 09 July 2015
*A dispute exists between the Governments of Argentina and the United Kingdom of Great Britain and Northern Ireland concerning sovereignty over the Falkland Islands (Islas Malvinas), South Georgia and the South Sandwich Islands (Islas Georgias del Sur y Islas Sandwich del Sur) and the surrounding maritime areas.