Both the final-phase and intermediate-phase plumaged Short-tailed Albatrosses Phoebastria albatrus that make up a female-female pair have been sighted at their nest site near the west end of Green Island, Kure Atoll in the North Pacific this season. They were first reported with two eggs in their nest, but one was later displaced.
The banded female-female pair has laid two eggs on Kure each year since 2010 (click here), although none has ever hatched, so the eggs are presumed to be unfertilized.
Other Short-tailed Albatrosses are occasionally seen on Kure (click here). Decoys have now been placed near the nest site with the hope of attracting more birds to the atoll.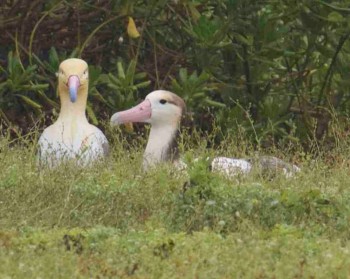 The intermediate-plumaged of the pair with an overlooking decoy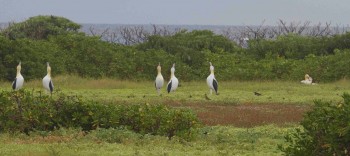 Five decoys in a displaying position, with the female-female pair in the background
The adult-plumaged bird looks at a decoy, with five more in the background, along with Black-footed and Laysan Albatrosses
Photographs by the Kure Atoll Conservancy
With thanks to the Kure Atoll Conservancy.
John Cooper, ACAP Information Officer, 24 November 2014