The 5th International Bio-Logging Science Symposium (BLS5) will be held in Strasbourg, France from 20-26 September 2014.
Following on from four very successful earlier symposia held in Japan, UK, USA and Australia, BLS5 aims to attract a wide range of researchers who use animal-attached electronic devices to study aquatic, terrestrial and aerial species, and their habitats.
The term 'bio-logging' is interpreted broadly, encompassing not only logger-based technologies but also cutting-edge telemetry applications, as well as innovative systems using passive tags.  The scientific scope of BLS5 is similarly broad, with the three draft themes being ordered by biological topic, rather than habitat or taxonomic group:
behavioural ecology
ecology and environment
physiology and medicine
To facilitate the planning of BLS5, the organizing committee would appreciate if prospective attendees could register their interest at this stage (click here).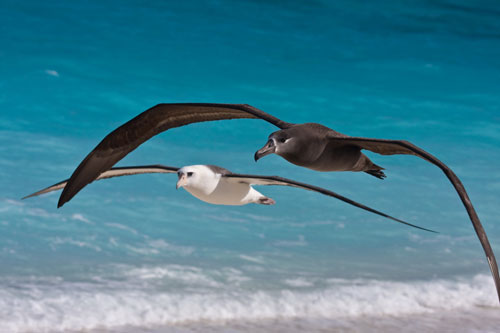 Both Black-footed and Laysan Albatrosses have been tracked by satellites in the North Pacific
Photograph by Eric Vanderwerf
The organizing host of the symposium is the Institut Pluridisciplinaire Hubert Curien (IPHC) from the Centre National de la Recherche Scientifique (CNRS) and the Université de Strasbourg, in collaboration with several other research institutes.  Strasbourg is the capital of the Alsace region in France.  The symposium will be held in one of the main conference rooms of the Palais des Congrès.
With thanks to Akiko Kato for information.
John Cooper, ACAP Information Officer, 31 July 2012