Following successful eradications of alien mammals on several other of its sub-Antarctic islands, New Zealand is now looking to "complete the set" by clearing its largest southern island of three introduced mammals by 2025 - as described in the following advertisement for a Pest Eradication Project Manager.
"New Zealand's Department of Conservation is seeking a talented and experienced person to manage the planning and delivery of a complex and specialised project. The project aims to eradicate remaining mammalian pests (pigs, cats and mice) from 46 000-ha Auckland Island in New Zealand's World Heritage listed Sub Antarctic region.
The position is based in Invercargill. The successful applicant will be largely office based during the planning phase. The role will also be required to lead and oversee work on remote Auckland Island (465 km south of Bluff, New Zealand) for periods. You will enjoy working as part of a team in a challenging environment.
The ambitious project is nationally significant and aligned with the Predator Free New Zealand initiative's interim goal for 'Eradication of predators from New Zealand's Island Nature Reserves by 2025′. Success will be dependent on quality planning and delivery.
The successful applicant will have proven performance in project management with outstanding leadership and communications skills and experience managing high value relationships. Some of the other skills you will need include:
Physically fit and capable in remote field situations,
Good computer skills with competency across Microsoft suite,
Adaptability,
Strong collaboration ability,
Media skills,
Strong negotiation skills,
Pest control and eradication knowledge,
Remote island operational experience, and
Full driver's licence.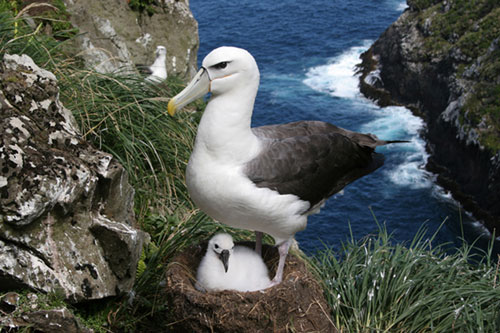 Auckland's White-capped Albatrosses will be able to breed with more success once the feral pigs are eradicated, photograph by David Thompson
Please apply online here. Applications must include a cover letter, CV and evidence of the required capabilities as per the project description.
For any queries, please contact Tony Preston, This email address is being protected from spambots. You need JavaScript enabled to view it.. VPN 5812 or telephone (03) 211 2412, quoting vacancy 400/84T1.
Applications close at 5 pm on Monday, 29 May 2017."
Click for the Project Description and the Applicant Information Sheet.
Read a related ACAP Latest News item here.
John Cooper, ACAP Information Officer. 17 May 2017