The Chatham Island Taiko Trust announced last week it has received funding to transfer ACAP-listed and Vulnerable Chatham Albatrosses Thalassarche eremita to New Zealand's Main Chatham Island with the aim of establishing a second breeding colony.
Albatross chicks will be taken from the species' only current breeding site on The Pyramid to a site on the privately-owned Tuku Farm near Point Gap on Chatham where they will be hand-fed until fledging (click here to read details of the project plans).
Over a period of three summers, chicks will be collected from The Pyramid at two different stages during the breeding season and transferred via boat to the release site. Chicks will be fed and monitored daily until fledging in three to four months' time. Fledged chicks could start returning to the colony at the age of four, and begin breeding at the age of seven.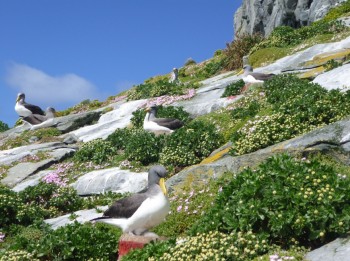 Chatham Albatrosses breeding on The Pyramid, photograph by Lorna Deppe
The project is already underway with over 20 models of Chatham Albatrosses made to place at the chosen tranlocation site in the hope of attracting free-flying birds to visit.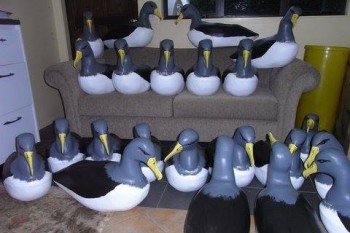 Model Chatham Albatrosses ready for deployment
Photograph courtesy of the Chatham Island Taiko Trust
This is the first time a translocation exercise for albatrosses is to be attempted outside the North Pacific where pioneering work has been undertaken on Black-footed Phoebastria nigripes, Laysan P. immutabilis and Short-tailed P. albatrus albatrosses by Japan and the USA working together over the last decade (click here). Team members from Japan's Yamashina Institute of Ornithology will be supporting the New Zealand translocation effort in its first year, this ensuring the transfer of necessary expertise and making the exercise an international one.
"Established in 1998, the Chatham Islands Taiko Trust was originally created to conserve the endangered taiko [Magenta Petrel Pterodroma magentae] as an integral part of the Chatham Island landscape. Over the years, the Trust has expanded its conservation aims to provide the Chatham Island community with the opportunity and tools needed to enhance natural habitats and preserve other unique wildlife on their islands."
Selected references:
Bell, M. 2012. Albatross translocation. Gaining experience to developing methods to transfer albatross chicks in the Chatham Islands. A report on a study trip supported by the Winston Churchill Memorial Trust. 16 pp.
Deguchi, T., Jacobs, J., Harada, T., Perriman, L., Watanabe, Y., Sato, F., Nakamura, N., Ozaki, K. & Balogh, G. 2012. Translocation and hand-rearing techniques for establishing a colony of threatened albatross. Bird Conservation International.
Deguchi, T., Suryan, R.M., Ozaki, K., Jacobs, J.F., Sato, F., Nakamura, N. & Balogh, G.R. 2013. Translocation and hand-rearing of the short-tailed albatross Phoebastria albatrus: early indicators of success for species conservation and island restoration. Oryx The International Journal of Conservation.
John Cooper, ACAP Information Officer, 2 December 2013