The predator-proof fence at Kaena Point on the Hawaiian island of Oahu that was erected in 2011 has already proven a success with improved breeding within it by both ACAP-listed Laysan Albatrosses Phoebastria immutabilis and Wedge-tailed Shearwaters Puffinus pacificus (click here).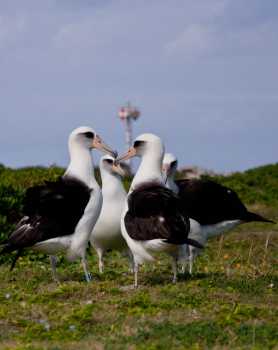 Laysan Albatrosses safe behind the fence at Kaena Point
Photograph by Lidsay Young
News is now to hand that a second predator-proof fence to a similar design is to be erected on the neighbouring island of Kauai to protect another population of Laysan Albatrosses, and also to serve as a translocation site for the Endangered Newell's Shearwater Puffinus newelli.
"Over the course of several years, approximately 100 shearwaters will be translocated starting with between 10 or 15 the first year … shearwaters would be brought from mountainside burrows on Kauai [where they are at risk to introduced predators] approximately one month before their maiden flight to sea" (click here). The site will also avoid the problem of light pollution adversely affecting fledging shearwaters.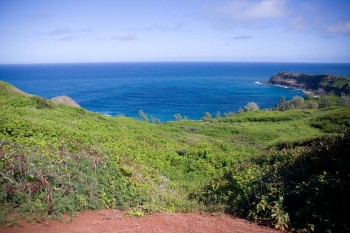 Nihoku Ecosystem Restoration Project site looking to the north-east
Lindsay Young of Pacific Rim Conservation is once more coordinating the initiative, following the success of Kaena Point. The chosen area, which already supports breeding Laysan Albatrosses, is situated at Nihoku (Crater Hill) and falls within the Kīlauea Point National Wildlife Refuge. The fence will aim to keep out introduced predators, including feral cats, domestic dogs, mongooses, rats and mice. Construction is expected to take two to three months and is set to start in 2014, following a public-participation process and the undertaking of an environmental assessment.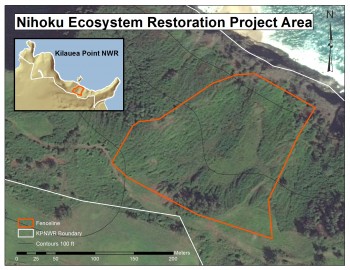 The 728-m fence will be built on a sea-facing slope and enclose a three-hectare area. A mesh skirt will prevent predators from entering the area and a rolled hood will keep larger predators from climbing over. An existing fence erected in 1990 keeps dogs and feral pigs away from the albatrosses within the refuge - but not the smaller predators. The new pest-proof fence will be the first to protect a US National Wildlife Refuge.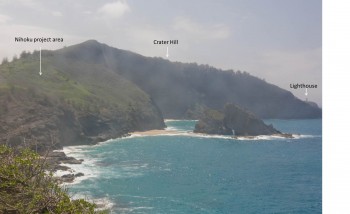 The project is a collaboration between the U.S. Fish and Wildlife Service, the National Fish and Wildlife Foundation, the American Bird Conservancy, the Kauai Endangered Seabird Recovery Project and Pacific Rim Conservation.
Click here to read how predator-proof fences are helping procellariiform seabirds around the World, and here for the Nihoku (Crater Hill) Ecosystem Restoration Project fact sheet.
With thanks to Lindsay Young for the photographs.
Selected References:
Young, L.C., VanderWerf, E.A., Lohr, M.T., Miller, C.J., Titmus, A.J., Peters, D. & Wilson, L. 2013. Multi-species predator eradication within a predator-proof fence at Ka'ena Point, Hawai'i. Biological Invasions. DOI 10.1007/s10530-013-0479-y.
Young, L.C., VanderWerf, E.A., Mitchell, C., Yuen, E., Miller, C.J., Smith, D.G. & Swenson, C. 2012. The use of Predator Proof Fencing as a Management Tool in the Hawaiian Islands: a Case Study of Ka`ena Point Natural Area Reserve. Technical Report No. 180. Honolulu: The Hawai`i-Pacific Islands Cooperative Ecosystem Studies Unit & Pacific Cooperative Studies Unit, University of Hawai`i. 82 pp.
John Cooper, ACAP Information Officer, 16 June 2013