The Vulnerable Pink-footed Shearwater Puffinus creatopus is a Chilean breeding endemic that migrates across the equator to the coastal Pacific waters of the USA and Canada in the non-breeding season (click here). It breeds on only three islands: Isla Mocha, and Robinson Crusoe Island (Más á Tierra) and Isla Santa Clara in the Juan Fernández Archipelago. The total global breeding population is estimated to be approximately 28 000 pairs, of which 69% breed on Isla Mocha.
At the Sixth Meeting of ACAP's Advisory Committee, held in Ecuador in 2011, Chile signalled its intention to submit the Pink-footed Shearwater for listing within the Albatross and Petrel Agreement (click here). ACAP had previously concluded that the shearwater was a strong candidate for inclusion under the Agreement (AC3 Doc 18).
Following meetings and workshops held in Chile during the course of 2012 (click here) Chile has now prepared a draft ACAP Species Assessment for the Pink-footed Shearwater that will be discussed at the Seventh Meeting of the Advisory Committee, to be held in France next month (AC7 Doc 24).
If the Advisory Committee gives support to Chile then the final step will be a formal nomination to the next Meeting of Parties to the Agreement, due to be held in 2015. If successful, the Chilean seabird should become the second shearwater listed within the Agreement (and likely the 31st listed procellariiform) following the addition of the Critically Endangered Balearic Shearwater P. mauretanicus at the Fourth Meeting of Parties in 2012.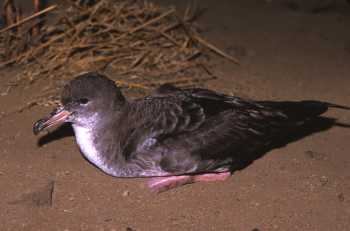 Pink-footed Shearwater. Photograph by Peter Hodum
The draft ACAP Species Assessment for the Pink-footed Shearwater was drafted in collaboration by Jorge Azocar (Instituto de Fomento Pesquero, Chile), Marcelo García (Subsecretaría de Pesca, Chile), Valentina Colodro (Oikonos), Javier Arata (Instituto Antártico Chileno), Peter Hodum (Oikonos) and Ken Morgan (Canadian Wildlife Service).
Both national and international management plans have been produced for the Pink-footed Shearwater (click here).
Reference:
Cooper, J. & Baker, G.B. 2008. Identifying candidate species for inclusion within the Agreement on the Conservation of Albatrosses and Petrels. Marine Ornithology 36: 1-8.
John Cooper, ACAP Information Officer, 4 April 2013