The Convention on Migratory Species (CMS) has recently been promoting the Convention as well as the Albatross and Petrel Agreement in the USA:
"From 26 to 30 November 2012, Mr. Bert Lenten, Officer in Charge of CMS visited Washington, DC to conduct talks with representatives of governmental and non-governmental organizations (NGOs). The purpose of the visit was to raise awareness of CMS and the legal instruments concluded under its auspices, [and] to seek additional support for their implementation. Another objective was to explore the possibility or interest of the United States in acceding to CMS and ACAP" (click here).
In January 2009, the United States Departments of Commerce and of the Interior jointly forwarded to the U.S. Congress proposed legislation to implement the Agreement on the Conservation of Albatrosses and Petrels. The "Albatross and Petrel Conservation Act of 2009" followed from a transmittal in September 2008 to the U.S. Senate by then President George W. Bush recommending that it give early and favourable consideration to the Agreement and give its advice and consent to U.S. accession. In October 2007 President Bush directed Federal agencies to increase U.S. involvement in ACAP, setting in motion the Administration's efforts to join the Agreement (click here).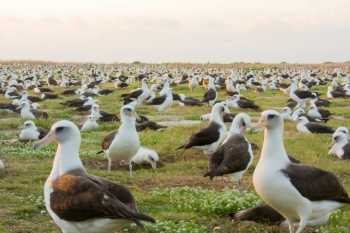 Most of the World's Laysan Albatrosses breed on islands belonging to the USA
Photograph by Lindsay Young
According to the CMS report "signature of a non-UNEP treaty such as ACAP does stand a … chance at passage in this upcoming term. Discussions are underway with organizations such as IUCN, Audubon Society, and Society for Conservation Biology to help build support and identify 'Congressional Champions'. This would help introduce ACAP legislation domestically with the expectation that treaty signature in the Senate would follow domestic passage. For now, ACAP remains on the list of U.S. Priority Treaties for Ratification."
Although not yet a Party to ACAP, the USA has been an active participant in the work of the Agreement since its inception in 2004, supporting research of high relevance to ACAP's action plan and sending observers to all the Sessions of the Meeting of Parties to the Agreement and of its Advisory Committee and working groups held to date. The USA also attended the second and final negotiation meetings for ACAP held in 2000 and 2001.
John Cooper, ACAP Information Officer, 4 January 2012