The South Georgia Habitat Trust has this month published issue No. 23 of its newsletter Project News which informs on progress with Phase 3 of the South Georgia Habitat Restoration Project that aims to rid South Georgia (Islas Georgias del Sur)* of its introduced rats and mice.
In the newsletter information is given on the team for Phase 3 (once more to include veteran helicopter pilot, Peter Garden and also Keith Springer who led the successful operation to rid Australia's Macquarie Island of its introduced mammals).  Plans to treat the remaining southern third of the island of over 360 km² with 4000 bags of poison bait to be dropped from three helicopters are outlined.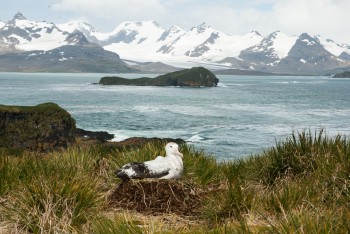 South Georgia (Islas Georgias del Sur)* from Prion Island, photograph by Anton Wolfaardt
Meanwhile the following news released by the trust earlier this week is suggestive of a successful Phase 2 operation.
"News just in of the discovery of the first South Georgia Pipit [Anthus antarcticus] nest in an area cleared of rodents by the Habitat Restoration Project.  The nest was spotted at Schlieper Bay on the South coast of the North-West baiting zone at Weddell Point.  This area was treated in May 2013 as part of Phase 2 of the project.  The nest, containing five chicks, was discovered by none other than Sally Poncet, a former member of Team Rat and expert on the wildlife of South Georgia.  This thrilling news shows the rapid impact of the Habitat Restoration Project on this potentially endangered species."
Click here to access previous newsletters of the South Georgia Habitat Restoration Project.
It is expected that removal of the island's rodents will lead to improved breeding by its seabirds, especially burrowing petrels, which include the ACAP-listed White-chinned Petrel Procellaria aequinoctialis.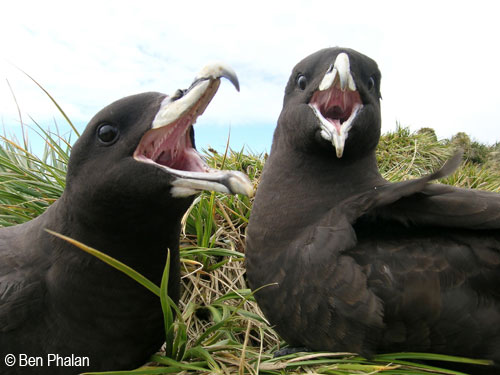 White-chinned Petrels displaying, photograph by Ben Phalan
John Cooper, ACAP Information Officer, 17 January 2015
*A dispute exists between the Governments of Argentina and the United Kingdom of Great Britain and Northern Ireland concerning sovereignty over the Falkland Islands (Islas Malvinas), South Georgia and the South Sandwich Islands (Islas Georgias del Sur y Islas Sandwich del Sur) and the surrounding maritime areas.