The UK's Royal Society for the Protection of Birds (RSPB) has postponed the intended eradication of the albatross-killing House Mice Mus musculus of Gough Island in the South Atlantic from next year to 2020. According to the RSPB this will allow more time for planning the exercise and thus increase chances of success (click here for more details).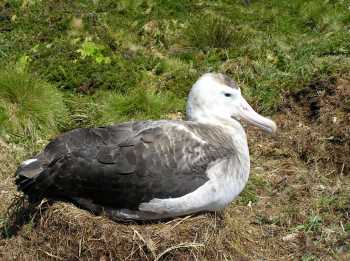 At risk to "killer" mice: a female Tristan Albatross incubates its egg on Gough Island; photograph by John Cooper
"A combination of unexpected challenges this year have shown the Gough team's ability and determination to achieve our goals. By going ahead with the operation in 2020, we will have sufficient time not only to ensure that we overcome those challenges, but to use the results to build stronger, more robust plans. The operational window is between June and August of each year. June 2020 is the next earliest feasible date that we can carry out an eradication."
Read more items in ACAP Latest News on Gough's mice here.
The Gough Island Restoration Programme is being carried out by the RSPB in partnership with Tristan da Cunha, BirdLife South Africa and the South African Department of Environmental Affairs. Read more here.
John Cooper, ACAP Information Officer, 27 August 2018