The Eleventh Meeting of ACAP's Advisory Committee (AC11) will be held from Monday, 13th to Friday, 17th May 2019, in Florianópolis, Brazil. A Heads of Delegation meeting will be convened on Sunday, 12th May 2019 in the late afternoon/evening.
Meetings of the Seabird Bycatch Working Group (SBWG), and the Population and Conservation Status Working Group (PaCSWG) will precede AC11 at the same venue (SBWG9 from Monday 6th to Wednesday 8th May, and PaCSWG5 from Thursday 9th to Friday 10th May).
Information on key dates for submission and distribution of meeting documents for AC11 and the Working Group meetings, as well as other relevant information, will be provided in Meeting Circular 1.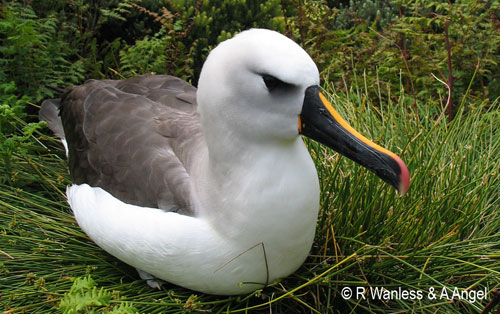 Atlantic Yellow-nosed Albatrosses are a common visitor to Brazilian waters where they are risk to being caught on longlines, becoming entangled and ingesting plastic
Photograph taken on Gough Island by Andrea Angel & Ross Wanless
Brazil has previously hosted the Agreement; the Second Meeting of the Advisory Committee (AC2) was held in Brasilia in June 2006. Next year's Advisory Committee meeting follows on from AC10, held in Wellington, New Zealand in September 2017 and the Sixth Session of the Meeting of Parties (MoP6), held in South Africa's Kruger National Park last month. The Seventh Session is due to be held in 2021 in Australia – when ACAP will be 20 years old.
Florianópolis is the capital and second largest city of the State of Santa Catarina in the southern region of Brazil. It is served by an international airport. A coastal city situated on Santa Caterina Island with a humid subtropical climate, it has a population of roughly half a million. The island is connected to the Brazilian mainland by bridges and is known for its many tourist beaches.
Nathan Walker, Chair, ACAP Advisory Committee & Marco Favero, ACAP Executive Secretary, 18 June 2018